Pass it around...
31 Winter 547 (07 August 2002)
As I stepped out of the library a few days ago, I had planned to get some coins in the northern plains first. However I heard about big problems in the inner passes area south of mid pass! Of course I tried to help and joined a big group to battle a even bigger group of wendies! Wooh! Of course we got them all! 8)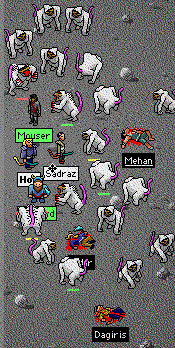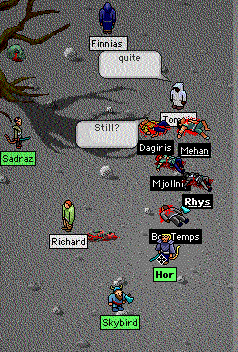 Looks like fun in the passes!
On some other occation I witnessed Habba turning brightly red at lilly pond! For a warrior like him there should no reason to do there, but with Lorikeet around I fully understand *chuckle* 8)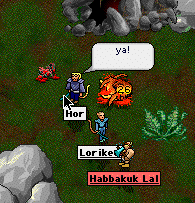 No reason to blush, Habba!
Well, I know it's getting boring, but we went to the new bear cave to get some coins! I hunted for the first time with Clubby and he had a very impressive punch! Long time studier of Darkus as he told Talin and me. Still more than once he required a quick rescue by chain *grin*.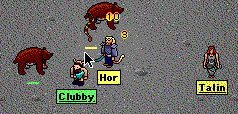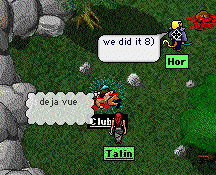 Free bears again!
After the bears we did go to the ferals and had some fun time! My good advice was not required, because the ferals just didn't do as they were told! Looks like I have to train with Fiercus a bit more. 8)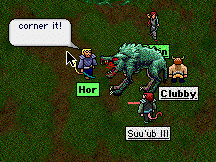 The ferals just don't listen!
Another happy event to report! My long-lost clan mate Taurobar is back! We all wondered where our zo had been the last zordiacs, but now he reappeared to fight with us again! We celebrated in the north-western forests and lilly pond! Hope to see you around more often, Tauro! 8)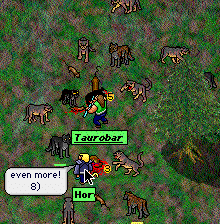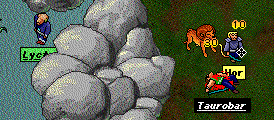 Horray! Taurobar is back! 8)
posted 2002-08-07 22:33:06 CET - 2 comments [Viewed 2209 times]