About golems, cacao and a shower
76 Winter 547 (18 August 2002)
Hello all! Time for another bunch of things I have witnessed the last days. Like as I went to the northern plains to find some furs... Yay! My prayers were answered quickly! 8) I think I was attacked by like 15 artaks at the same time. Pity them.... *chuckle*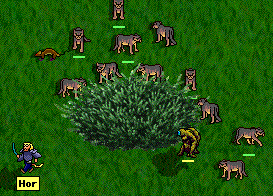 My yell for kitties worked this time...
Later I joined a group that was headed to Melabrions Isle for a rescue. We had a really fierce battle at the choke point near the keep... it took us a while, but in the end the rescue was a big success! And I was very proud to be one of the few that walked home on their own feet! 8)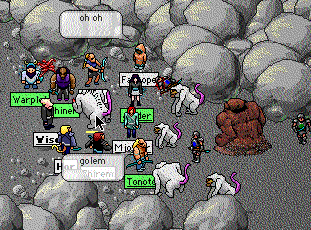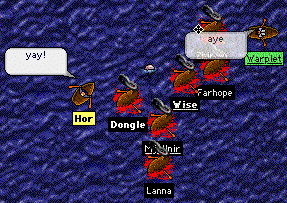 Oh..thats all?
I did not stay long in town, because I was invited to join a dark chamber hunt! That sounded like serious fun and it started out really well! Like usual we got a little trouble in the end, but with some strong reinforcements all was soon under control. But then folks started to claim that I was smelling!! Unbelievable! But the boldest part was as Sasha actually surprised me with a shower in the middle of town square (after we were savely back from our hunt). Waaaaaaaaaaah! Took me *days* to get rid of that S'poo-smell.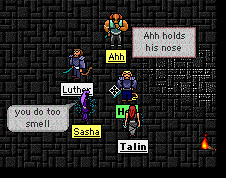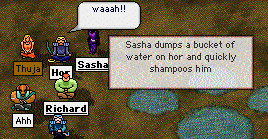 Some people need their noses fixed!
Wooh! That was some extraordinary hunt! For some OOC-reason (DNS problems) only twelve exiles were in the lands and so we formed a powerful party to have some undisturbed fun! (Ok, the powerful part belongs to Haenk, Tater and Tippy... Tauro and me just went along 8)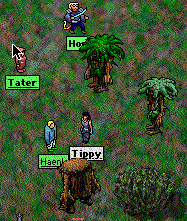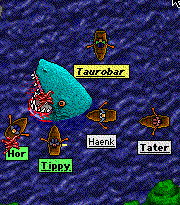 Spending quality time!
We had cleaned first lilly pond, felled a lot of trees in the tree giant breeding grounds and went lastly to Kizmia Island! Yay! (It was night too!) Of course we stayed clear of the inner areas, but we had fun in the KI-waters and visited Fat Alice's place! Thanks folks, this was really exciting! 8)

And visiting Fat Alice's supermarket
Last thing for today... I had the pleasure to see that it is actually possible to find cacao pods! I really doubted it, because I checked that palm tree like a million times and found never anything. Pluto and Yazza had both luck! Strangely enough that the pod only showed up in the pocket of Pluto... Mystics....8)
Wooh! Cookies! 8)
posted 2002-08-18 22:10:53 CET - 2 comments [Viewed 2123 times]