Purple ribbons?
56 Spring 547 (04 September 2002)
Hello! Time to report of another "Edarian Hunt Club" hunt! To be precise, the official hunt was scheduled for a later date, but because of some coincidence we could gather a very nice party early nevertheless! We did not expect much trouble as we went again to the snaggle woods...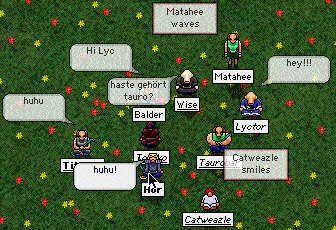 Welcome to an unofficial EHC hunt
The problem was that the trouble expected us! We did really well until we were cornered by two furies! Our group was able to dispatch the first one, but the second one hunted us through some snells and got us seperated. As a third fury appeared we decided that it was time to get some rescue coming! 8)
Big thanks for the help folks! We had not to wait long thankfully...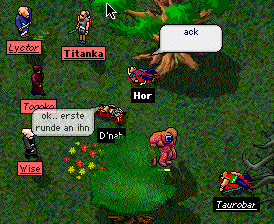 Goodbye EHC hunt! 8)
Well, what followed next was not so funny. Sasha obviously decided to replace Frucy while she was on vacation... so I had to get wet again! Just look at the pictures... I don't have the strength to comment that any further... *shiver*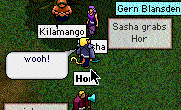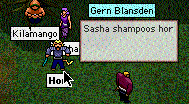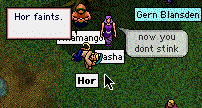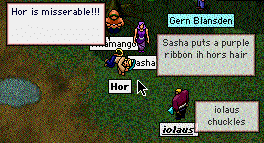 An unpleasant encounter...
After some time to recover I even agreed to go hunting with that bathing sylvan Sasha. We did a quick stroll through the savannah and were quite successful. Even with a lot of new coins in her purse all Sasha could think of were new ways how to bathe me! Yikes!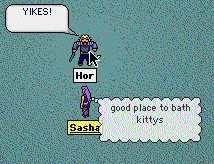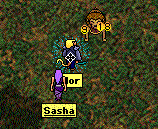 Even on hunts she thinks only about bathing!
Hearing about trouble in the tree giant breeding grounds I headed there to help. There is no water near that place - that's a good reason for me! 8) Looked like a bad spawn of giant foxweirs cut badly through a group there. Of course with some more help we could get them in the end - and even some more trees of that area!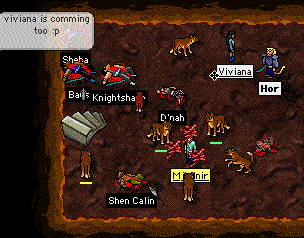 Oh, playing with foxweirs?
Hey, at last! Another story of hunting at the lilly pond! Tigger got a nice style for fashion and D'nah was seemingly deeply impressed! We all had some decent skill with Ms. Skea and did great professional discussions as you can see! 8)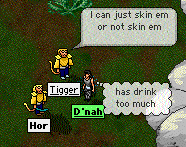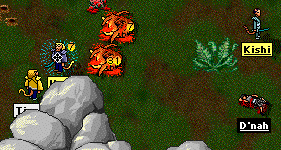 Double trouble?
posted 2002-09-04 21:12:18 CET - 3 comments [Viewed 1843 times]