Watching the sun go down...
56 Winter 549 (05 February 2003)
Hello all! Lets begin in the town center today, because there most stories begin. 8) And right there I saw Zorton advertising his sunstone tuning skills. Because mine was in really bad shape by now and I became quite attached to it (Saved up a full year and paid 1300 coins!) I decided to let it got fixed, so I don't have to fear it will break very soon. (I also think that the new, cheap sunstones don't last half as long as mine - close to 7 years now!)
Was very exiting to watch the magic as my stone got recharged...yay! Thanks Zorton, reception is much better now!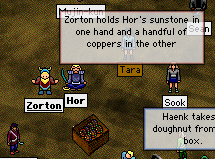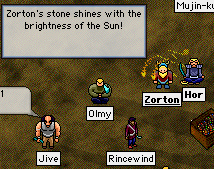 My first tune! (Don't worry, I won't become a bard 8)
Rested from all the sitting in town I followed an invite to the dark chamber. We had great fighting for some time, but then a Liche appeared and several of our strongest fighters fell. Dooh - we had to call for help and an army arrived soon! While in the mood we cleared out the dark temple as well 8)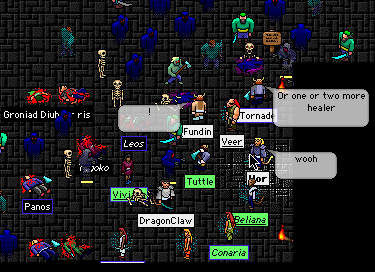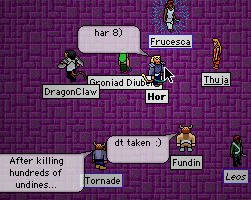 Plenty of undead to pick from..
Some time later I observed some mad T'rool while helping Tara, who got herself in some shackling situation in the north-western forests. I just wonder what it wanted from us? Perhaps next time I try to talk with it, instead of accidently killing it 8)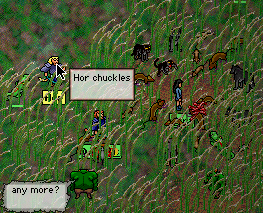 A T'rool who could not get enough?
Woooh! Last thing this time is a fierce fight at the rocky caverns! Sun wyrms are found pretty rarely there and we were crazy enough to decide to slay it! We needed a plan and time to execute it. A volunteer fell (that was me!) at a carefully picked spot in order to trap the wyrm. Luckily I had tagged it already by pure luck and had not to fear to get my share later. We also had asked the powerful boosting mystic Richard to assist us - with his boosts and Nunuls fell blade it got pretty easy to hit it. But it was disturbing not to see its health - and it turned out it was still green while we thought it must die any second. Darn!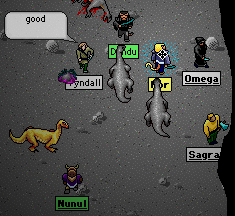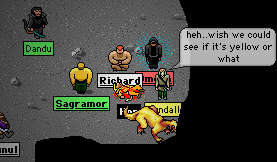 The critical steps to success!
We changed the plan then and I was raised again. We trapped it in a different corner and cleverly applied our secret weapon! The quake shook the wyrm badly and it hitted its head unluckily at the cavern wall and died instantly! Yay! Long fight, but we made it. More or less *chuckle*. Still need more ranks with Luckus!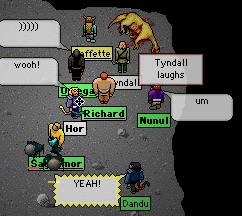 Wooh! In the end we bored it to death! 8)
posted 2003-02-05 22:54:05 CET - Add a comment [Viewed 2123 times]