Miscellaneous
89 Winter 549 (13 February 2003)
Hello! Nothing big to report this time, but I was quite busy in the library anyway. Still I found some clever T'rool - I just wonder what he is trying to say? *chuckle*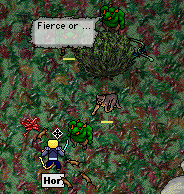 Can you finish that sentence?
And we have been ambushed my some slug invasion! I got slimed all over and Sasha insisted to bathe me! *yikes* After that I had to undress and went with Leos in the warm savannah to dry my fur. We figured that it might be a nice disguise to trick the mahas... but I guess they smelled all that shampoo from a mile of.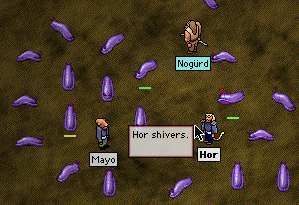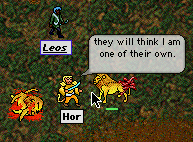 A slimy fur and ways to clean it...
Another surprise that week was a visit to Evus. That old chap actually smiled and bowed to me! I did not realize that he already thought I am such a good student of him... I was mightly pleased with myself! 8)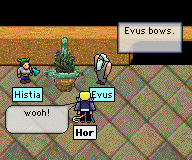 Darn me!
Trusting in my new "powers" *chuckle* I went to centaur isle to check if help was needed. Looked like I was right - A group just left Melabrions Isle (Or what was left from that group... pun intended 8).
But I stuck around with Sa'Wrap and waited for reinforcements. With a very strong group I went to mow through the critters there! I am particulary proud of the best skin I managed so far! 64 coins from a valley pather. Way to go! After MI we went fishing in the KI waters and were able to catch two culcans and countless toises. Very nice trip, thanks to all! 8)
posted 2003-02-13 22:25:33 CET - Add a comment [Viewed 2063 times]