Scary hunting
44 Spring 552 (16 November 2003)
Well, I got some bits to report this time. Recently I were invited to skin a bit on a really quick KI hunt. At this time we still had the portal in KI hut, which allowed us this speed. At first we did really just fine! Kishi had even the time to check on my training with her - which was slow, but very effective! Soon we grew a bit over confident and had to pay the price. Thanks all for the rescue! 8)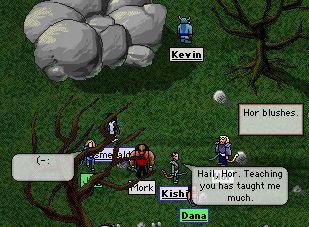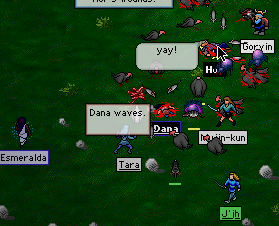 A really quick KI trip
Oh... I almost had forgotten the alignment of planets which leads to the feast of Tssrin! At this time fallens transform into undine and this can get quite messy. Poor souls who were struck by this fate. I was lucky and always raised just in time. We tried to hard to relieve all of them, but some were just to strong! Yuk!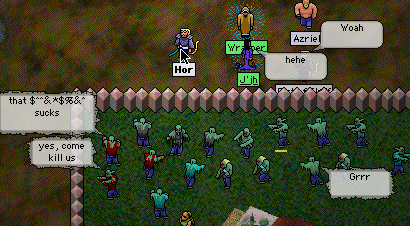 Unlucky souls meeting
After this undine matter had worn off, it was save to go hunting again. I went with Esmeralda to lilly pond and joined Martin and Myria, who were already there. Skins were not as good as expected, but I guess it was rude to talk of skins while Martin was in this bony condition. 8)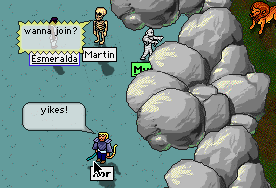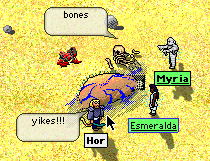 Scary hunting...
Here I was part of a rescue team who came to help some folks fallen in the deep chamber of noids. Lots of thanks go to our drake Curmudgeon who put really fear in the spiders! 8)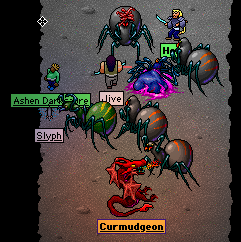 Drake against noids!
I finally met iolaus again! He did a little beach walking and stumbled over a few nice kitties. As I was not even near I asked him if he can keep them busy for a while. As I finally arrived he was really dizzy from all this circle running! *chuckle*
So I killed them and io had time to rest 8)
posted 2003-11-16 00:14:25 CET - Add a comment [Viewed 2221 times]