Just one more thing...
76 Spring 552 (23 November 2003)
Again I was out a bit and tried my luck to earn my lib coins in the new bear cavern. There I found a nice female sylvan Quinix and we teamed up for a short while. Just as she left she run into a cinder bear and she came back so I could tag, too. And one minute later I run into another cinder! Actually it was very easy to kill, but I remember the old times and was careful! 8)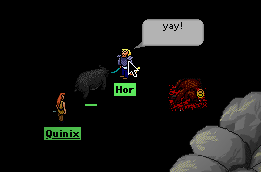 Night in the bear caves
Time for more serious hunting! A small group gathered in town and we discussed what to do. Suddenly a cute little mystic named Eve came by and smootched me! Yay! Now I was ready for anything! I wanted to do MI, but Esme suggested that we had way to less firepower for that. I did not care and replied that if were to weak, any rescue will bring more forces! (I had no idea how true this turned out to be...8)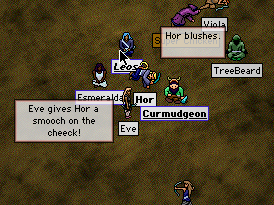 Getting some extra motivation! 8)
Esme gave us all 5 minutes before falling, but we were much quicker. It was even closer to 10 seconds. A very bad rush of GCP awaited and we not even saw the MI beach! The rescue came one by one and also fell one by one. We had gathered a quite impressive collection of fallens after a while. Thanks all for coming! 8)
But nevertheless - all could be raised and we actually had now plenty of firepower! And we were rewarded with the finding of an Angry Mother Sasquatch! Yikes! No way to let it life! Great action folks, after a fierce battle we finally brought it down.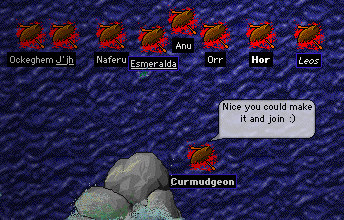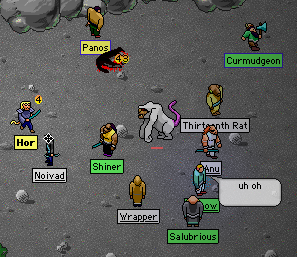 Having to bathe before finding the Angry Mother Sas!
And there is no week where I do not visit lilly pond. This time I found it busy, but Husk invited me happily along. We had several very close calls, but were able to kill a bunch of large sand worms. As our luck run out, Mjollnir came along and gave Husk a raise. Quite a funny hunt, thanks pals! 8)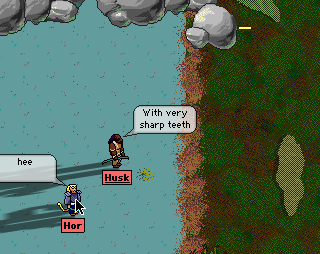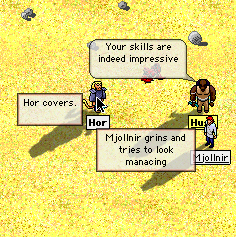 Lilly pond action
Oh yes, just one more thing..*chuckle*.. I passed the 4th circle test! This one took me forever! Actually I have counted - 27 times I failed that test! If you are really that interested, you can download this archive to watch all the tortures! [Visionstone: 1230k] (All 27 tries plus the passing movie)

It was close again - and I think I almost run out of time - but its quite interesting. Be sure to watch! Yay!
Download the passing movie here: [Visionstone: 83k].

(OOC Note: I have a new mac now, and it is temporarily unable to run the GL-client. So the picture quality may be reduced for a while.)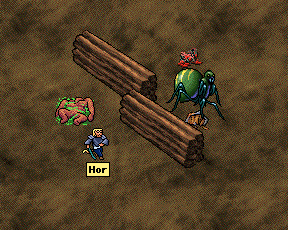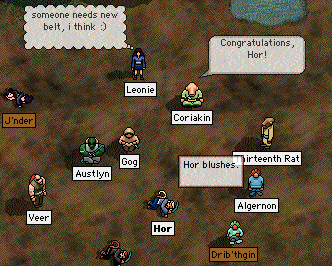 Unexpected, but about damned time! 8)
posted 2003-11-23 19:28:06 CET - 6 comments [Viewed 2423 times]